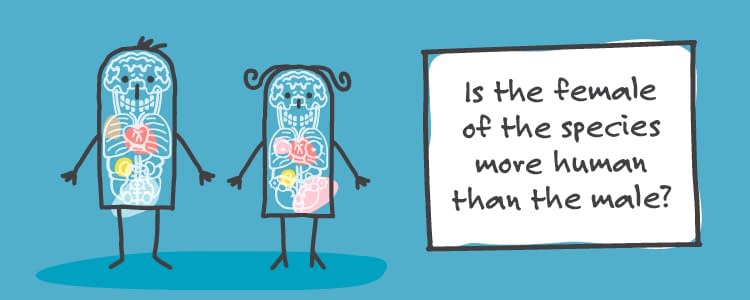 Are women in leadership really as different as we're led to believe?
In recent years, we've begun to see an increase – some might say a long overdue increase – in women entering the top positions, bringing with them a new approach to leadership and managing complex business situations in a world that's currently full of challenge and antagonism.
With a female PM stepping in to guide the country through the response to a controversial referendum, a woman coming close to the top job in the USA and an increase in female CEOs on the world stage, has leadership changed in response?
Many believe that men and women lead differently, focusing on different skills and approaches. But is this down to gender differences, or is it simply a change triggered by necessity when the world as a whole has changed and the way we lead must adapt to suit?
With so much focus on the gender differences, are we blinded to the more complex needs of our team? After all, there are a great many factors that determine who we are – and what makes us unique – other than the sex we individually happen to be. Is categorising your workforce by gender truly going to help you to better connect to them, develop them and get the best from every member of the team?
One area in which people believe women lead differently is in their' humanity' – their 'soft skills' approach to managing business. But is this, perhaps, less to do with being female and more to do with the proven successes of understanding your employees as complex individuals, and of communicating more openly as a way to create more connected, content and committed workers?
Statistics show that leaders with a higher EQ – more emotional intelligence – are more successful and get better results from their teams. Research carried out by The Carnegie Institute of Technology showed that 85% of financial success was due to skills in "human engineering", personality, and ability to communicate, negotiate, and lead: only 15% was due to technical ability. Women are stereotypically said to be more emotionally intelligent than men, – and more likely to display the so-called 'soft skills'. (These stereotypes are, by the way, born out by research findings recorded by 6seconds.org, which commented that:
[… because of the female edge in "Enhance Emotional Literacy" and "Apply Consequential Thinking," it's likely that "Ms. Average" will have the capability to understand and evaluate emotions better that "Mr. Average."
But if those assumptions had added up, surely we would have seen an even greater increase in women entering top positions?
Conscious that generations of ingrained belief can make it challenging for women (who also face pragmatic hurdles to progression) to approach leadership positions without worrying about outdated stereotypes, we have [modal_text_link name="WiL" class="" id=""]created learning programmes[/modal_text_link] specifically tailored to helping women face these challenges and enabling them to lead successfully, overcoming assumptions based on gender and focusing instead on the unique skills each leader brings to the role.
What matters is how we approach leadership itself – and how leaders connect with and communicate with their workforce. Any assumptions or generalisations – whether based on gender, race, socio-economic background or education – need to be left outside the door, and relationships built on personal experience of who each worker is, what they bring to the business, and a measure and appreciation of their unique skills. (In developing this understanding of individual differences and contributions to build high performing teams, team psychometrics can be very helpful.) In this way, each member of the team is viewed as unique, and they are brought together in such a way that their skills can overlap and integrate to create a unified and multi-faceted business that encompasses a wide range of skills and abilities – allowing for personal ambition and growth within the organisation, supported by a leader who understands how to develop each worker in reaching their full potential, supported and celebrated by their superiors and peers.
In a world currently facing significant – and, at times, worrying – changes, this human approach to leadership is all the more important. When, as now, we need to focus on investing in relationships, personal development, and drawing teams together with shared goals and accomplishments, there is no place for gender stereotypes – either in leaders or in the workforce itself.
As we approach the end of a rocky year for the worlds of politics, business and humanity itself, businesses globally are planning how to approach 2017 to maintain the status-quo, keep businesses working, engage their workforces in troubled and potentially troubling times and to ensure continuing success despite – or even because of – the challenges so many of us face.
If your leaders can maintain a focus on the human side of the business – on the needs of own their workforce and those of the clients you serve – as individuals, lasting and successful relationships can ensure the professional and personal growth of your organisation – which is where successful leadership matters. Manging businesses through complex change – and particularly through [modal_text_link name="MergersAcquisitions" class="" id=""]M&As, where the human factor is critical to success[/modal_text_link], challenging times and difficult situations means that your leaders need a wide range of skills – and, at their heart, an understanding of people. Because without people, there is no business.
If you are looking for learning programmes to enable your leaders to see past the stereotypes and focus on the unique skills each member of your workforce brings, our inclusive leadership programme is designed to increase productivity, create competitive advantage and drive business growth through embracing and maximising the diversity of talents within your workforce.
Contact us today on 01234 757575 to discuss how we can enable your leaders to unify your team, or click the button below to schedule a conversation.[/fusion_text][button link="https://calendly.com/consulting-team-ask" color="custom" size="large" stretch="no" type="flat" shape="square" target="_self" title="Book a Conversation" gradient_colors="#009abf|#009abf" gradient_hover_colors="|" accent_color="" accent_hover_color="" bevel_color="" border_width="" icon="" icon_position="left" icon_divider="no" modal="meeting" animation_type="0″ animation_direction="left" animation_speed="1″ animation_offset="" alignment="center" class="" id=""]Book a Conversation[/button][modal name="meeting" title="Book a Conversation" size="large" background="" border_color="" show_footer="yes" class="" id=""]

[/modal][modal name="WiL" title="Download File: Coaching for Women in Leadership" size="large" background="" border_color="" show_footer="yes" class="" id=""][contact-form-7 id="254020″ title="@ Coaching Women in Leadership"][/modal][modal name="MergersAcquisitions" title="Download File: Mergers & Aquisitions White Paper" size="large" background="" border_color="" show_footer="yes" class="" id=""][contact-form-7 id="254022″ title="@ Mergers & Aquisitions"][/modal]