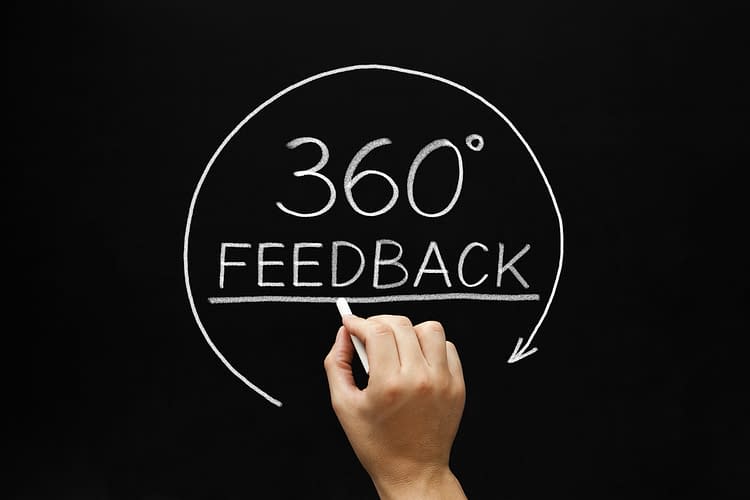 In its broadest sense, feedback is information you get about yourself from experience, from other people – or from life. It might be your annual performance review, a long-term client renewing a contract, or your reception when you enter a room. It can be formal or informal, direct or implicit, and either blunt or so subtle that you're not sure what it is.
The term "feed-back" came from engineering, describing how energy or momentum are returned in mechanical systems. By 1920, it was used to describe sound loops in amplification systems – the piercing squeal we know from inexperienced microphone users or Jimi Hendrix recordings. But what has this got to do with leadership development? Feed correct information back to its point of origin – the employee – and voilà! Everyone tunes up for optimum performance!
During World War II, the German military began to evaluate performance by gathering 'feedback' from multiple sources. The term was later used in industrial relations when talking about people and performance management: Esso used surveys to gather information about employees in the 1950s. By the 1990s, most HR departments were using it, although paper-based processes required complex, time-consuming manual calculations. Nowadays, the Internet allows for sophisticated online surveys (allowing comparative or aggregate reporting and supporting multiple languages), and many firms use multi-rater feedback in developing talent, improving morale, aligning teams, solving problems, and boosting performance, productivity and profit.
So what specifically is 360 degree feedback?
360 degree feedback:
is a multi-source feedback process in which direct reports, peers, line managers and/or customers and other external stakeholders provide behavioural and performance feedback to recipients
includes self-evaluation, allowing the recipient to compare perception of self with perception of others, and
is particularly useful in measuring soft skills.
Organisations use 360 degree feedback to foster a feedback culture where individuals, teams and the organisation seek, receive and use feedback to improve performance. Leaders receive feedback from selected observers – their line manager, peers, direct reports, internal/external customers – to support and enhance their development, either as a stand-alone tool, or as part of a broader team or individual development programme.
Organisations using 360 degree feedback successfully follow many best practices:
a shared belief that positive, evaluative feedback provides opportunities for development
ensuring the process and purpose are well-structured and clearly communicated
assurance that feedback is confidential
enabling observers to cite specific examples of behaviour
providing training and support for observers giving – and leaders receiving – feedback
specific pre-briefings to help leaders understand the process
feedback sessions with qualified coaches to help leaders understand their feedback report.
The Benefits
A 360 review alone will not change a person: it won't do the hard work and practice that comes between appraisals. But 360 degree feedback can help leaders improve in key areas that might otherwise limit their career path or cause conflict within a team.
The organisation will benefit from the development of stronger, more capable staff — but only if they understand its value to them by:
Providing an opportunity to compare their own opinions with those of colleagues, peers and customers
Understanding what has made them successful so far
Receiving a broader view of their organisational impact
Highlighting their strengths and areas for development and providing a starting-point
Increasing their self-awareness and providing a focus for development
It can also improve dialogue with line managers, which can increase job satisfaction and motivation, and enhance team communication by raising awareness of individual differences.
360 degree feedback is not….
A way to surface performance issues (such as underperformance) or determine whether leaders are meeting basic job requirements
A way of raising issues covertly within a team
A replacement for employee opinion surveys
A review of basic technical or job-specific skills – it should not be used to measure strictly objective criteria such as attendance or sales quotas.
360 degree feedback is not a psychometric test – an objective measurement of skills and knowledge, personality traits, abilities and attitudes, using specifically-constructed, statistically tested questionnaires.
If you write your own questions…
Many 360 degree question sets are proprietary items, developed by consultants, but you may also be able to add questions of your own. The questions you ask depend on your reasons for undertaking the process and might explore any of the following areas:
Leadership
Communication
Team Skills
Organisation Skills
Creativity
Interpersonal Skills
Organisational Alignment
Don't ask questions on all of these at once: pick the most important to you at the moment and ask questions that will help you understand how others currently perceive you.
Different question styles also have unique strengths and weaknesses:
Avoid technical skill questions, as there are better ways to measure and provide feedback on these
Try to focus observers' attention on the impact of your habits and skills rather than your personality
Keep a balance between open ended questions and scale questions, using a consistent scale (1 – 5 is commonly used and easy to understand)
Use open ended questions to ask what you should continue doing, do differently – or stop doing
Keep it short: focus only on a small selection of skills.
What support is available?
While 360 degree feedback be highly motivating, it can also leave you feeling deflated – or with questions to ask. As well as your organisation's L&D and/or HR teams and your line manager, you should have access to a certified Coach, with whom can discuss any issues in complete confidentiality during your debriefing session. They guide you through the experience, answer your questions and help you interpret your feedback.
Your feedback session will help you increase your self-awareness and prepare to change and develop. It is not a coaching session, but a catalyst to help you accept information that you need to pay attention to and identify areas where you need to take action.
Above all, remember that how you receive feedback, what you decide to take in, and explore it before accepting or rejecting it is ultimately your choice. Choosing not to accept or act on some of the feedback may have consequences, but the decision is yours. Being able to establish these limits – sorting the wheat from the chaff, deciding what to focus on and what to reject – is central to receiving feedback well, and to managing your well-being and relationships.  With your coach's help, you need to find your own learning zone.
Before you start…
Why not ask yourself some helpful questions?
Do I have the time or energy to dedicate to developing my interpersonal skills and leadership capability?
Is my relationship with feedback healthy? Do I typically react constructively or defensively?
Have I received regular feedback from my manager? Is it time to ask others for their perspectives?
Have I been in my role long enough to receive meaningful feedback?
To find out more, visit our Facilitated Learning page to read more about our services or use the button below to book a conversation with one of our expert consultants.[/fusion_text][button link="https://calendly.com/consulting-team-ask" color="default" size="large" stretch="no" type="flat" shape="square" target="_self" title="" gradient_colors="#009abf|#009abf" gradient_hover_colors="|" accent_color="" accent_hover_color="" bevel_color="" border_width="" icon="" icon_position="left" icon_divider="no" modal="meeting" animation_type="0″ animation_direction="left" animation_speed="1″ animation_offset="" alignment="center" class="" id=""]Book a Conversation[/button][modal name="meeting" title="Book a Conversation" size="large" background="" border_color="" show_footer="yes" class="" id=""]

[/modal]