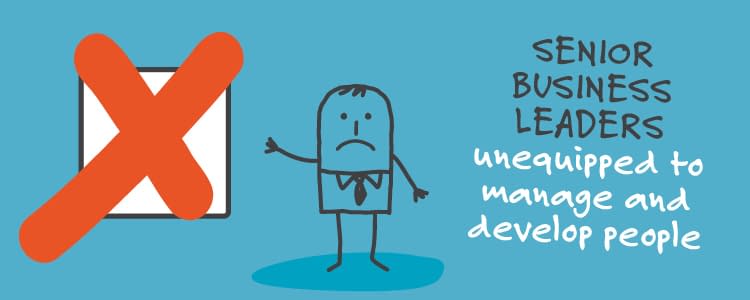 Those blunt words were how the CIPD announced the findings of its HR Outlook: Winter 2016-17 survey.  While organisations voted performance management and people management as the two most important behaviours and skills for organisations over the next three years, senior leaders' current performance in these areas were considered ineffective by 53% of respondents for the former, and 44% for the latter.
Dr Jill Miller, CIPD Research Adviser, was similarly plain spoken, drawing a series of pretty unavoidable conclusions and arguing that organisations need to:
make 'targeted investment in their leadership's people management capability'
review 'outdated career development models' to create pathways for progression for those with a technical bias that does not oblige them to take on people management responsibilities
provide formal training and greater support for line managers, who are increasingly being expected to take on people management responsibilities that were previously handled by HR functions.
We can only agree with another of her comments: a business really is its people. The senior leadership may call the tune, but the workforce are the band that actually play it. They are the people that deliver its vision, mission and strategy, that live its customer relationships and provide the productivity that generates success.
Yet the detailed results in the Winter 2016-17 survey (which you can download as PDF) don't provide a great deal of comfort:
The only current organisational priority reported by a majority of respondents was Cost Management
70% of HR staff believe their team's activities are at best 'somewhat aligned' with organisational priorities
Senior leaders are rated least effective in relation to conflict management, inspiring trust, communicating strategy, performance management, engagement/motivation and empowering others
17% of line managers get neither formal training nor 'tailored support': only 25% currently receive both.
Where analytics are used within the business, line managers are less likely to have access to HR dashboards and reports than Finance managers.
We have always argued the importance of the 'people' aspect of business – whether it is referred to as 'soft skills', 'people management capability' or any other phrase. If leadership is largely meaningless without the capacity to engage and inspire others, that management is similarly lacking in impact without a focus on communication, understanding and an ability to motivate. A manager's team is not yet another task to tackle, but the means to accomplish aims and objectives.
As we say in describing our Management Development programmes:
We specialise in the people skills that enable managers to understand human behaviour, communicate, and motivate people. We succeed where others fail because we understand that learning is easy but – without sustained support from others – changing behaviour is tough.
While we agree that organisations should be encouraged to develop career models that allow individuals to pursue particular technical skills and specialisms without having to forego opportunities for progression (not least as doing so may help to retain the talents they not only offer but are seeking to enhance) it cannot be the entire solution. The rest of the workforce still needs skilful, thoughtful and inspiring management, and those left responsible for providing it need to be invested in to enable this to happen.
While organisations must manage costs in the present, they cannot do so sustainably if this comes at a heavy cost to their own futures: managers' role in developing the next generation of the workforce today is essential to tomorrow's health and prosperity.
Read more about our Management Development programmes – or contact us on 01234 757575 to speak to one our consultants. Alternatively, you can use the button below to book a no obligation telephone appointment.[/fusion_text][button link="https://calendly.com/consulting-team-ask" color="custom" size="large" stretch="no" type="flat" shape="square" target="_self" title="Book a Conversation" gradient_colors="#009abf|#009abf" gradient_hover_colors="|" accent_color="" accent_hover_color="" bevel_color="" border_width="" icon="" icon_position="left" icon_divider="no" modal="meeting" animation_type="0″ animation_direction="left" animation_speed="1″ animation_offset="" alignment="center" class="" id=""]Book a Conversation[/button][modal name="meeting" title="Book a Conversation" size="large" background="" border_color="" show_footer="yes" class="" id=""]

[/modal]