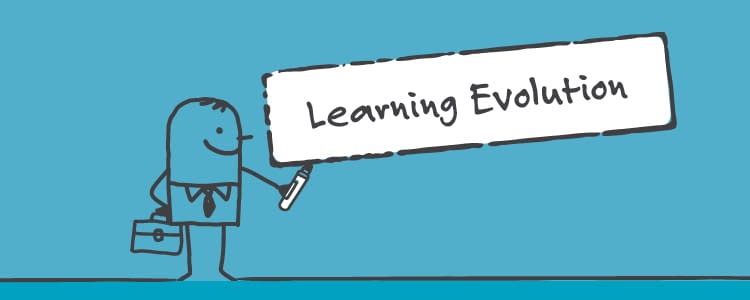 How we learn is changing – and how we teach must change too
Formal learning has always had – and will always have – a place in L&D, and we will always support the formal learning programmes our clients request. But we also know that people learn in different ways, and that our approach has to be adaptable to support more of them through their learning journey: this is an age of learning evolution. We also appreciate that employees place widely varying value on different learning experiences, and that the training they get is not always the training they might want.
CIPD's Employee Outlook Autumn 2016 report explored this topic, with interesting findings. While 86% found instructor-led off-the-job training useful/very useful, even higher percentages valued learning from peers, on-the-job training, job rotations and secondments. Looking more specifically at comparisons of value with the types of training actually received, it's striking that 81% valued blended learning, but only 4% had received it in the last twelve months. Coaching was also valued by 81%, but received by only 8%. (CIPD's Learning and Development 2015 Annual Survey Report also showed coaching as the only learning method that a higher percentage of respondees reported as effect than reported using regularly, which begs an unanswered question.)
L&D is also, of course, a business function, and economic factors are an important influencing factor on a changing landscape. L&D budgets are under significant pressure in many industries, especially in the public sector: even in the private sector, as many respondents identified budget cuts as increases. A general picture of rising L&D workloads and decreases headcounts emerges, although increased expenditure on learning technologies is widespread. In looking at training that was both received and valued in the Autumn 2016 Employee Outlook report, it is striking to note that 35% received no training at all. When we consider how much support employees are receiving in being effective performers, it is sobering to remember another CIPD report from 2014 – previously commented on here – that showed that 36% of line managers receive no training in how to better perform their vital role.
Facing this storm of factors, the learning landscape is shifting. Rather than following extensive formal learning programmes, many employees prefer to access shorter, more informal learning modules on an 'as and when' basis – taking control of their own learning and development and accessing new information when the need arises. As CIPD's figures on the role of coaching underline, there is also a preference for in-role learning through experience 'on the job' under the support of someone with hands-on experience.
At our core, we all want to learn and understand more – but many of us shy away from formal training courses that take us out of the office for days at a time. (Given pressures of budgets and workloads, this shying away is also likely to be an imposed behaviour: our own experience of working with clients across all industries is that there is an increasing appetite among training buyers and sponsors to minimise out of office time in delivering training.) Faced with inboxes and To Do lists that will only grow in our absence – and an Internet-enabled world where we have an expectation of self-service – the availability of accessible learning modules (most probably delivered digitally) allows us to not just to learn at our own pace but to do so when the information is most relevant.
This shift towards learning at the point/time of need and in shorter component elements has another benefit, in that it gives employees a greater sense of autonomy in their own development (which in turn brings additional benefits in employee satisfaction and engagement). This new approach to learning is likely also to deliver a greater degree of learning transfer, as the new knowledge, skills and behaviours that each employee is acquiring have direct relevance at the point of learning. As the Learning Insights Report 2014 commented:
"L&D departments are responding with shorter, bite-size learning, which is frequently linked to supporting 70:20:10 approaches and a resources not courses approach.

This approach is very much linked with providing learning that is practical and can be applied on the job to improve performance. Changes in job roles and the nature of jobs have also encouraged the use of shorter learning content."
Not every aspect of the world, or of human learning, is changing beyond recognition, of course: new learning still has to be contextualised, personalised, absorbed and applied. This central truism of learning – indeed, its raison d'etre – is the underpinning of ASK's Engage, Learn, Transfer, Evaluate model of training, which emphasises the importance of supporting learners in applying their knowledge directly to their work as they learn. This experiential learning – applying learning immediately and using it in the workplace, experiencing the new processes in action – cements that learning in the way a test couldn't.
This approach does not, however, dispense with the human roles of trainers, facilitators, coaches and mentors. In a self-service or self-paced environment of digital and computer-mediated learning, the learning expert has many important and beneficial roles to play – provided skilled and sensitive interpretation of psychometric assessment results, moderating and guiding social learning, and providing the executive coaching and development mentoring that enables each learner to extract the personalised, contextualised learning they require, relating it to their individual circumstances and tackling the challenges of applying it effectively. (For more information, read our free [modal_text_link name="Agile" class="" id=""]Agile Leader[/modal_text_link] and [modal_text_link name="PDM" class="" id=""]Personal Development Mentor[/modal_text_link] guides).
If this kind of multi-faceted learning approach would help your organisation, and you want to develop your leaders' coaching and mentoring skills to support them as they guide and support your workforce through learning and growth, we can work with you to create a portfolio of learning programmes to suit your specific needs. Contact one of our consultants today on 01234 757575 or click the button below to schedule a conversation.

[/modal][modal name="Agile" title="Download File: The Agile Leader" size="large" background="" border_color="" show_footer="yes" class="" id=""]Before you download…
[contact-form-7 id="256677″ title="@ Agile Leader"][/modal][modal name="PDM" title="Download File: Personal Development Mentors" size="large" background="" border_color="" show_footer="yes" class="" id=""]Before you download…
[contact-form-7 id="254012″ title="@ Personal Development Mentors"][/modal]