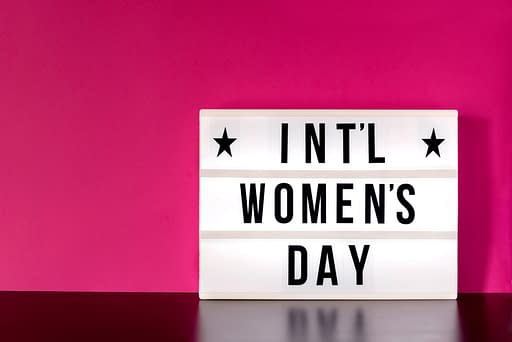 As today sees the successes and achievements of women being globally recognised and celebrated we could plug our own 'coaching for women in leadership' programme and talk about how great we are, and what we do to support the growth of women's presence in board rooms and management – but that makes it all about us.
We aren't here to talk about us today; we're here to talk about women in leadership. About the success stories, the inspirations, the fighters, the movers and shakers, who are out there leading organisations and driving change, every single day.
Women like Sheryl Sandberg, COO of Facebook, and founder of a non-profit organisation called Lean In, dedicated to supporting the empowerment of women – an organisation named after her own bestselling book.
Women like Tsai Ing-wen, the President of Taiwan – their first female leader, and the first leader of Taiwan to speak directly to an American President in almost 40 years, raising concerns about issues her campaign focussed on within Taiwan. Issues like national security, green energy and her focus on economic growth, which has seen an upswing in trade, biotech and pharmaceutical development.
Perhaps women like Chile's first female leader, Michelle Bachelet, who has used her time in power to legalise gay marriage, to sponsor a reproductive rights bill, to protect the culture and heritage of Chile, to create a 286,000 square mile marine reserve around Easter Island to protect endemic wildlife, and to develop the first geo-thermal energy plant in South America!
On the topic of green energy, let's look at Isabelle Kocher, CEO of Engie – a company which was losing billions, and is now, under her leadership, on track to grow and thrive in the development of solar and wind power, and charging stations for electric vehicles.
Within the UK all eyes are on Emma Walmsley, CEO of GlaxoSmithKline, the first woman to run a major pharmaceutical company. Her reorganisation of the brand is leading to significant investment in respiratory treatments, therapies for HIV and other infectious diseases, research and development of oncology drugs, and immune-inflammation therapy.
When Forbes first began putting together a list of the world's most powerful women – the full, most recent version can be found here – it created a wave of support, and the creation of the MPW Summit – a leadership community in which women celebrate, support, encourage and campaign for one another, for the growth of representation in every industry, in every country, in every body of power.
When women come together, there is nothing that can't be achieved, and inspirational, powerful, successful women lead the way for more women to climb higher, achieve more, and smash through the glass ceiling.
Women in Leadership are still outnumbered by men, but the growth of powerful women visibly stepping up and succeeding against that bias shows that change is possible, and happening, right now, and we are proud to support and celebrate that growth.