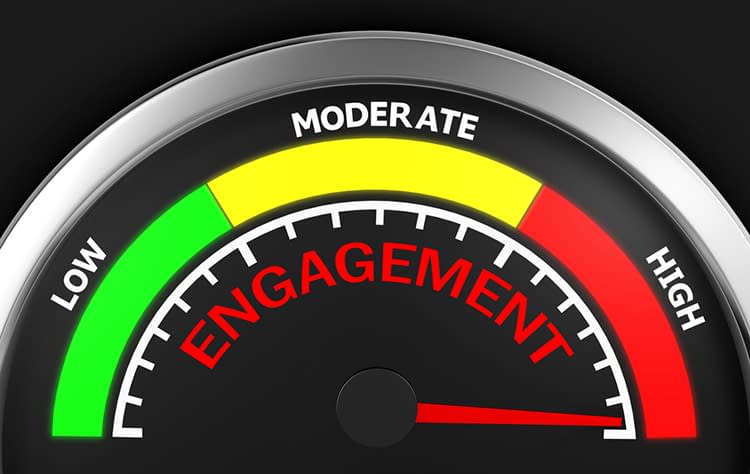 An engaged workforce can make your business fly, and we can help you achieve it
Being engaged is something that we all delight in – a celebration of commitment and connection, and of a relationship being cemented. These are fundamental human instincts, and fundamental sources of something else that we crave: a sense of purpose and meaning. But we aren't talking about a happy couple planning marriage, or even about life-long friendships: we mean employee engagement, something just as worthy of celebration, but also something more often longed for than experienced!
Workplace engagement is one of the business topics of our time, and endless articles voice a range of worries – frequently about the generation gaps, the needs of millennials, and the different approach that younger people take to their careers. A specific concern is with retention, and there is a common perception that are more likely to move from role to role, and company to company, to climb the career ladder quickly, meaning that recruitment is a constant process in many organisations. Perhaps related to another popular view that millennials are uniquely different, there is a noticeable panic about how organisations and managers must strive to engage them. (Or better yet, engage with them: engagement is, after all, a two-way street.)
Challenging Perception
"Perception is reality" is a familiar aphorism. Unfortunately, it's a misquote: what Christopher Ray actually said was "Perception is merely reality filtered through the prism of your soul." Although when it comes to 'the millennial issue', we might substitute 'media' for 'soul'. The empirical research is less clear about the difference inherent in the millennial generation, beyond simply being a different generation – not in itself a new phenomenon.
As Bruce Pfau, KPMG's Vice Chair of Human Resources and Communications, wrote recently for Harvard Business Review:
"On the contrary, a growing body of evidence suggests that employees of all ages are much more alike than different in their attitudes and values at work. To the extent that any gaps do exist, they amount to small differences that have always existed between younger and older workers throughout history and have little to do with the Millennial generation per se."
Others have commented more specifically on our inter-generational commonality. In a LinkedIn article, Amanda Kreun posed some pertinent questions:
"While the Internet and social media may play a large role in Millennial communication, it also plays a role in communication across generations. How many non-Millennials also seek news from an online source? How many non-Millennials also use Facebook, Twitter, and LinkedIn as a way to share and seek out information?"
Essentially, there are plenty of arguments that the salient thing about Millennials is not their year of  birth, but that they are – at least for the time being – young. And just as it mostly has in the past, being young is associated with other attributes: with changing jobs frequently as young people are ambitious to build careers and meet growing financial responsibilities (and now that 'the job for life' has been consigned to museum status, they often have little choice); with being ambitious to learn and grow, and possibly with being idealistic about the opportunities they will receive.
Engagement isn't about age differences
Other detailed surveys throw sharper light on what Millennials are seeking from their work experience, and ways of driving their engagement as employees. IBM's 2015 report, Myths, exaggerations and uncomfortable truths: The real story behind Millennials in the workplace, again showed them to be little different from their elders:
"Like Baby Boomers, they stress the importance of inspirational leadership, a clearly articulated business strategy and performance-based recognition and promotions. They place less emphasis on a collaborative work environment, the freedom to innovate and the flexibility to manage their work/life balance than Gen X employees, but the differences are small. By and large, all three generations prize the same qualities."
Good leadership does not target sub-divisions of the workforce: it's inclusive, and it works to create better workplace environments. And remember, engaging any employee is something done with them, not to them: senior managers' ears are as important in this context as their mouths. If the job description is the legal contract between organisation and employee, the actual experience of the job is the psychological contract. Without engagement – and more specifically without listening, consulting and understanding – this contract is quickly broken.
And engagement is about motivation too. CIPD's latest Employee Outlook research report includes two snippets that suggest that organisations need to work harder not just to engage but to inspire – and not just millennials, but everybody:
"We asked respondents, first, how clearly they know what the core purpose of the organisation is and, second, how motivated they are by the organisation's core purpose. Net agreement to knowledge of core purpose is very high (+74), while net agreement to being highly motivated by their organisation's core purpose is much lower (+31)."

"We measured employee motivation by agreement with the item 'this organisation really inspires the very best in me in the way of job performance'. Interestingly, the overall net agreement score for this item is very low at +6, with almost as many people disagreeing (31%) as agreeing (37%) that their organisation inspires the very best of them in the way of job performance."
If you want more information about leading to inspire, on how to work with your workforce to create development plans and pathways that can drive greater commitment, or about the learning programmes we have developed to enable long term employee engagement, call one of our consultants on 01234 757575 or click the button below to schedule a conversation..[/fusion_text][button link="https://calendly.com/consulting-team-ask" color="custom" size="large" stretch="no" type="flat" shape="square" target="_self" title="Book a Conversation" gradient_colors="#009abf|#009abf" gradient_hover_colors="|" accent_color="" accent_hover_color="" bevel_color="" border_width="" icon="" icon_position="left" icon_divider="no" modal="meeting" animation_type="0″ animation_direction="left" animation_speed="1″ animation_offset="" alignment="center" class="" id=""]Book a Conversation[/button][modal name="meeting" title="Book a Conversation" size="large" background="" border_color="" show_footer="yes" class="" id=""]

[/modal]