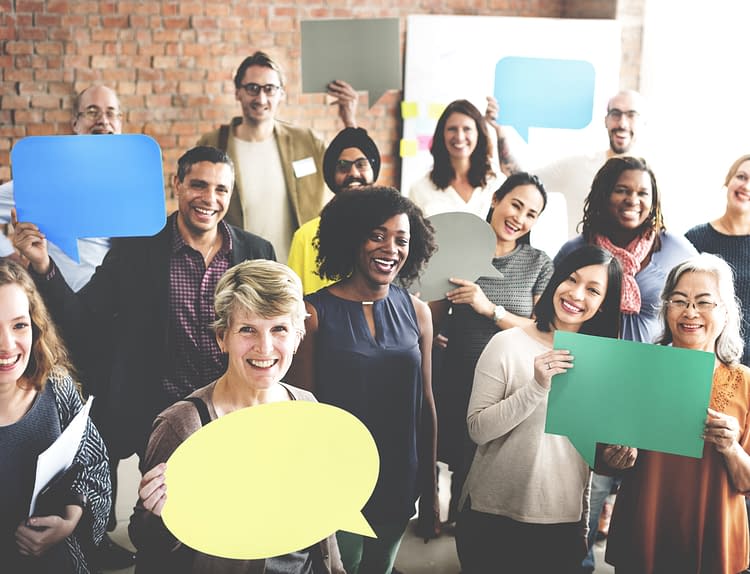 To get the best out of a 360 degree feedback process, it's important to understand its purpose and how it operates, and to prepare yourself for the feedback that you will receive.
Picking observers
One of 360 degree feedback's main benefits is to show you fresh perspectives from a wide variety of sources. Before you begin, you need to select your 'observers': the people most able to provide accurate, meaningful feedback. As well as your line manager, you should include a mix of direct reports, peers, internal or external customers. Too few and it may not be comprehensive or valid; too many, and it becomes diluted.
Consider inviting all your direct reports to acknowledge that you value everyone's feedback. Remember that peers can provide insight into interpersonal and teamwork behaviours that direct reports might not observe, and that customers have unique perspectives on influencing behaviours. Also consider people with whom you work both well and not so well: the better they reflect the diversity of your working relationships, the more helpful it can be.
Briefing observers
Unless your organisation manages the contacting and briefing mechanisms, you may need to explain the 360-degree process and allow them to participate or not. (They may say no, if they feel they don't know you or your work well enough.) Make sure they're clear about timescales, that their feedback will be anonymised, and that they understand that helpful feedback:
describes the behaviour that inspired it and its possible consequences
gives examples of particular behaviours
is limited to only one area in any one conversation
refers to things the receiver can do something about
recognises the needs of both observer and receiver
allows the receiver to check and clarify to ensure they understand
As well as 'agree/disagree' answers, invite comments with examples of observed behaviour.
If you have the opportunity to ask additional questions, consider your current strengths and areas for development, and what you would like to know more in terms of your leadership style and capability. Examples might include:
How do you feel I contribute the most value to the business, and how could I deliver more?
How could I modify my style or approach to become a more effective influencer?
How might I demonstrate more strategic thinking?
What do you think and feel about how I communicate, one to one and in groups. What might I do more – or less?
How can I improve collaboration across my business area?
Before you receive your feedback
Receiving feedback well is a challenge. Many organisations train leaders to give feedback effectively, but few prepare them to receive it. Doing this well – especially when it's poorly delivered – means managing the emotions it triggers and extracting value from it. Becoming a better receiver means sorting and filtering: trying on ideas that might initially seem like a poor fit, or discarding misdirected or unhelpful.
Even well-intended feedback can highlight a tension between two human needs – to learn and grow, and to be accepted as we are – and set off different triggers that prime us to reject, counterattack or withdraw, instead of having nuanced conversations that help us learn.
We have provided the following summary of three identified triggers and six steps that you can take to counter them (a fuller version is given in a Harvard Business Review blog – Finding the Coaching in the Criticism –  by Douglas Stone and Sheila Heen, authors of the book Thanks for the Feedback: The Science and Art of Receiving Feedback Well):
Truth triggers – when feedback seems unhelpful or untrue, we feel indignant or wronged
Relationship triggers – our view of the giver can mean that we reject messages we would accept from someone else
Identity triggers – we feel overwhelmed, defensive or off-balance where feedback –right or wrong – challenges our sense of ourselves.
Here are six helpful steps.
Know your tendencies
Do you typically defend yourself with facts or seethe with indignation? Do you agree with the feedback but struggle to change, or reject it in the moment and re-consider later?
Disentangle "what" from "who"
It shouldn't matter who delivers feedback, but it does. Separate message from messenger before considering both. Local, regional, linguistic and cultural variations can also influence practices of giving and receiving feedback. More direct cultures often use words that make the feedback feel stronger ("This is absolutely inappropriate," or "This is totally unprofessional."), while more indirect cultures use softer phrases (such as "kind of", "a little" or "slightly").
Sort toward coaching
Try to hear feedback as potentially valuable advice from a fresh perspective. Everyone needs both evaluative feedback ("You scored 4") and coaching feedback ("You could improve by…"). Assuming the worst, we sometimes hear even well-intentioned coaching as evaluation: when we feel judged, our anxiety hinders our learning.
Unpack the feedback
Before accepting or rejecting feedback, make sure you understand it. Whether you decide to take the advice or not, seek to understand your observers' examples.
Remember you're in control
Feedback sets off fewer emotional triggers when we can request and direct it: remember that you chose to participate and selected your observers. If you've been already taking opportunities to get bite-size pieces of feedback from them, this also isn't the first time you've received their feedback.
Engage in small experiments
Even debatable suggestions are worth trying if the potential downsides are small and the upsides large. If they don't work, try again, tweak your approach – or end the experiment.
Remember…
Even when you know it's essential, feedback can make you feel misjudged or threatened – or inspired and invigorated. To grow, you must learn to pull value from it and willingly seek observers' advice and coaching (even if they're bad at providing it). If you're determined to learn from your feedback, no one can stop you.
The de-briefing                                                                                                        
The 360 degree feedback debrief is the most critical element of the process, giving you the opportunity to delve more deeply into the feedback in a supportive environment and ensure your new self-awareness prompts change and development in a way that will have the most positive impact for you.
Before you begin, you might feel any number of emotions: elated and engaged or concerned and anxious. These feelings are absolutely normal. Remember this is an opportunity to gain a rounded view of your strengths and areas for development to help you grow and develop.
Introductions– Explain your role, responsibilities and team, and make sure your coach explains the session's purpose and their role. Together you will ensure you understand your 360-degree feedback's format and how it has been constructed.
Reading the report – ensure you have some time to read your report (especially if you haven't seen it before).
Debriefing –three key questions drive this conversation:

What is your overall impression of the feedback? (What are the broad themes? Is it pleasing or disappointing? Is it surprising?)
What does it suggest are your key strengths?
What does it suggest are your key development areas?
People often skip through reviewing their strengths, focusing on 'negative' ratings and comments. The coach may encourage you not to, not just because positive feedback feels good but because strengths often have flipsides that illuminate development areas (eg task-focused leaders may neglect 'people' aspects of their role).
You should measure your highlighted development needs against the impact that addressing them will have. Your Coach can help you explore this, adding their own observations and highlighting comments that might emphasise your own discoveries.
Moving towards action – keep a record, including a summary of the key strengths and development themes that emerged. As you own your leadership development journey, you should create this yourself – perhaps as part of your Personal Development Plan.
To find out more, visit our Facilitated Learning page to read more about our services or use the button below to book a conversation with one of our expert consultants.[/fusion_text][button link="https://calendly.com/consulting-team-ask" color="default" size="large" stretch="no" type="flat" shape="square" target="_self" title="" gradient_colors="#009abf|#009abf" gradient_hover_colors="|" accent_color="" accent_hover_color="" bevel_color="" border_width="" icon="" icon_position="left" icon_divider="no" modal="meeting" animation_type="0″ animation_direction="left" animation_speed="1″ animation_offset="" alignment="center" class="" id=""]Book a Conversation[/button][modal name="meeting" title="Book a Conversation" size="large" background="" border_color="" show_footer="yes" class="" id=""]

[/modal]