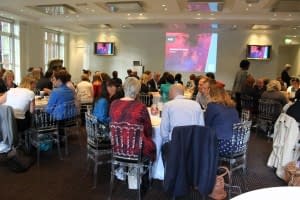 The important thing about breakfast is that it sets you up for the day. Fruit and cereal to give energy during the day ahead, and a glass of juice to clear away the fog of sleep. Our guests at BAFTA on 12 September could take their fill of nourishment in the conventional manner, but the fog-clearing came from our guest speakers.
As believers that adopting an approach of business as usual inevitably leads to exactly that, we invited two guests who, between them, challenged the wit of two celebrated minds: Oscar Wilde, who believed that "Only dull people are brilliant at breakfast", and Max Beerbohm who considered "People who insist on telling their dreams are among the terrors of the breakfast table."
Roma Agrawal shared with us the lessons she has learned from a life that has taken her from a childhood in India, through battling with Imposter Syndrome at Oxford University and to recognition as an acclaimed structural engineer and a promoter of scientific/technological careers (and especially for women). Clearly not a woman to be cowed by what others might consider a formidable challenge, she gave us much to think about: for example, that 'developing women' can be a form of stereotyping in itself, as it assumes a commonality that may not be proven, and that no-one is too experienced to have a mentor, as questions provoke thinking.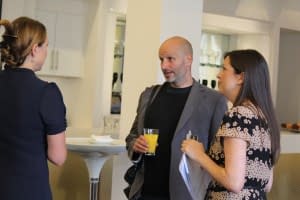 Benjamin Mee's stories of buying, restoring and running a dilapidated zoo amply demonstrated many of the event's themes of courageous and adaptable leadership. As he suspected, few of the audience had faced a morning in a new role where the pressing decision was whether to shoot the tiger or the jaguar (and, relying on the knowledge of a colleague, realising that 'neither' was the answer on the card). Benjamin's abilities to keep the often loosely-attached financial wheels of the zoo spinning demonstrated not just a keen ability to apply existing skills (a scientific understanding of animals, and a journalistic background that has clearly left an instinct for 'a good story'), but a determination to succeed that drove the acquisition of new knowledge to supplement it.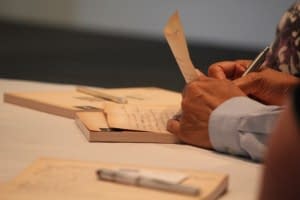 If our Twitter feed and the comments are anything to go by, our breakfast morning may have been intended as an 'eat it here' affair, but our guests didn't go short when it came to take-aways:
'People switch off from doom and gloom, hope is what keeps them going.'
'If you give up you definitely fail. If you carry on there's always a chance of succeeding.'
'Having a vision makes all decisions much simpler. Do the actions fit the vision or not?'