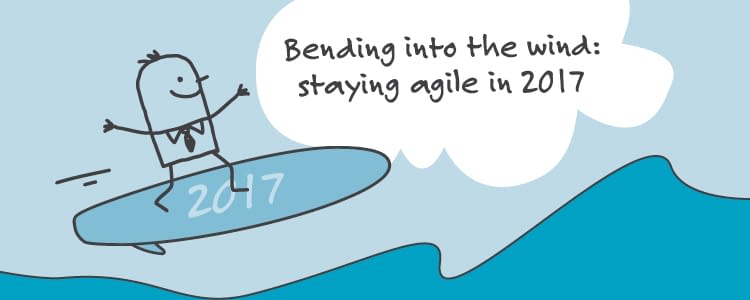 How can you stay agile and lead a business when it feels like things are falling apart?
As 2016 rolled to a close, many of us heaved a sigh of relief, looking forward to a new year that offered hope of better things after a tumultuous twelve months.
But as you look ahead, have you put much thought into the way your business leaders can support your team through any further difficulties that might come in the aftermath of last year's political and economic changes? We spend much of our waking lives in the workplace, where the organisational culture impacts the wellbeing of every team member. When that environment is impacted as seriously as we witnessed in 2016, people can lose motivation and morale can be low.
We don't like to hear words like 'volatile', 'uncertain', 'complex' and 'ambiguous' in association with our business plans, but it's unrealistic not to expect changes in the global landscape to have an impact, whatever the size of your organisation. As specialist consultancy Control Risks commented in December 2016:
"The unexpected US election and Brexit referendum results that caught the world by surprise have tipped the balance to make 2017 one of the most difficult years for business' strategic decision making since the end of the Cold War.

"The catalysts to international business – geopolitical stability, trade and investment liberalisation and democratisation – are facing erosion."
Successful leaders know how to restore morale, set goals and tasks that draw teams together, and develop their employees as well as themselves, offering everyone the right opportunities. As currently hard to predict changes make their inevitable marks in the coming months, do your leadership team know how to engage with people (both professionally and personally) in a time of uncertainty, and how to maintain a positive culture that maintains productivity, with plans for future growth?
Our [modal_text_link name="Agile" class="" id=""]Agile Leader programmes[/modal_text_link] can arm your management team with the skills to engage and motivate their teams, create an atmosphere of creativity and innovation, and approach difficult situations and conversations in a supportive way. Offering eight different blended development journeys, it can be adapted to provide the perfect fit for your organisation's leadership development needs.
As Karl-Heinz Oehler, vice-president of global talent management at the Hertz Corporation, wrote in the Economist Intelligence Unit's Global Talent Index Report:
"The rarest personality traits are resilience, adaptability, intellectual agility, versatility – in other words, the ability to deal with a changing situation and not get paralyzed by it."
Our [modal_text_link name="VUCA" class="" id=""]VUCA programme[/modal_text_link], designed for leaders in today's uncertain environment, combined formal and informal learning activities to help participants improve their capacity to lead others, lead through change, and to lead themselves.
We might not be able to change the world, but we can change our approach to leadership and workplace learning. For more information on how ASK can help you address the future more confidently, call our consultants today on 01234 757575 or click the button below to schedule a no-obligation telephone appointment. [/fusion_text][button link="https://calendly.com/consulting-team-ask" color="custom" size="large" stretch="no" type="flat" shape="square" target="_self" title="Book a Conversation" gradient_colors="#009abf|#009abf" gradient_hover_colors="|" accent_color="" accent_hover_color="" bevel_color="" border_width="" icon="" icon_position="left" icon_divider="no" modal="meeting" animation_type="0″ animation_direction="left" animation_speed="1″ animation_offset="" alignment="center" class="" id=""]Book a Conversation[/button][modal name="meeting" title="Book a Conversation" size="large" background="" border_color="" show_footer="yes" class="" id=""]

[/modal][modal name="VUCA" title="Before you download…" size="large" background="" border_color="" show_footer="yes" class="" id=""][contact-form-7 id="254018″ title="@ VUCA"][/modal][modal name="Agile" title="Before you download…" size="large" background="" border_color="" show_footer="yes" class="" id=""][contact-form-7 id="256677″ title="@ Agile Leader"][/modal]